Rory McGrath and Philip Pope - Bridge over Troubled Lager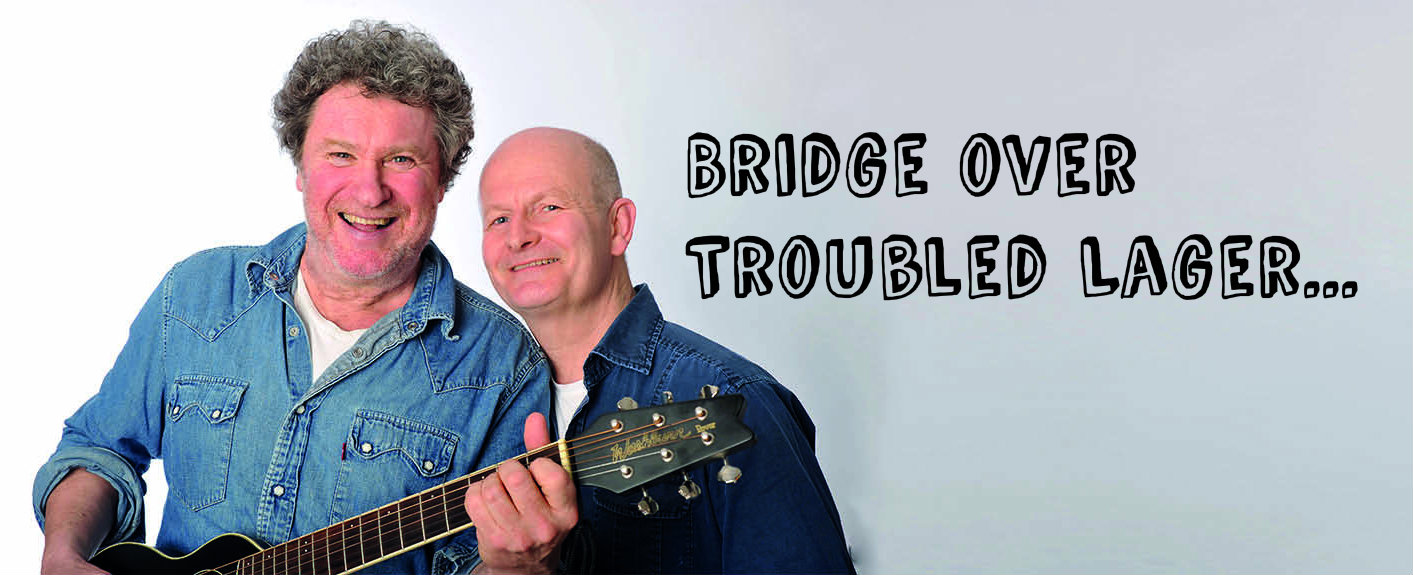 We caught up with one half of the comedic duo ahead of their Bristol show in Colston Halls Lantern Theatre. A night that is filled to bursting with filthy lyrics, clever musical pastiche and non-stop bickering on subjects as varied as social media, Scottish independence, pop, pets and hard-line Christianity. Needless to say, there's something to offend everybody. **Update, there are still a few tickets for tonight's show 05/03 available direct from the Colston Hall website**
Philip, you started your ventures into Comedy with the Oxford Revue (a group that I caught in Bristol recently) - What was it like to be part of that group?
It was great fun. I started out with Rowan Atkinson, Richard Curtis and Angus Deayton - whatever happened to them?! We probably thought we were breaking new ground but so long as people laughed it doesn't matter. With Angus, Geoffrey Perkins, Helen Atkinson Wood and Michael Fenton Stevens we did sort of..touring a show linked by a fictitious 'national local radio station' which became Radio Active on BBC Radio 4 then morphed into KYTV. This also featured The HeeBee GeeBees our parody band. From that I went on to be musical director of the satirical puppet series Spitting Image which featured many more comedy songs.
Your current show with Rory McGrath is titled 'A Bridge Over Troubled Lager' - which lager is it?!
Lager doesn't really enter into it but if it did I would say Fosters because of their connection with comedy. We decided to do a joke on a well-known album title of the 1970s to say that the show was mainly music but also funny - hopefully. Mentioning lager might make you think the show is laddish but this is far from the case. I think it is quite broad humour inasmuch as it appeals to people across the board, all different sorts, ages and sexes (all of them!) We have found that women seem to laugh most (and men tend to generalise most)
What can we expect from the show and what is your favourite part of putting on something like this?
The show mainly comprises Rory & me singing comic songs about all sorts of subjects in modern daily life - love, social media, celebrity tv etc. This is interspersed by banter and bickering and even a bit of community singing! It's great going around the country seeing so many different places and audiences - and having fun with them.
The show boasts that it has 'something to offend everybody' - Is there a pressure to come up with edgier material to make more of an impact, or is the modern audience that has become more sensitive?!
Interesting question - I suppose we are just saying our show has a broad appeal...but you are right there is a sense of needing to be different and push the barriers, whilst at the same time being constrained by so-called political correctness - a fine line to tread. Let me know how we do!
Musical comedy is a hard art to master, how do you even start putting together a song? Do you work together with Rory or each work on separate ideas? Do you want to borrow my Keytar?
You have a Keytar? How cool is that?! It starts with the comic idea- we sometimes discuss what sort of subjects we would like to tackle, but what usually happens is Rory will come up with a lyric and some sort of simple working tune. I will then take it and rewrite the music so that it is impossible for Rory to play - or so he says! My work is then done.
Charity shop purchase. Best. Day. Ever. pic.twitter.com/uuH2q35H3J

— Dan Izzard (@SimpleLampoon) February 7, 2015
What's the silliest piece of comedy you've ever written or performed? Has it seen the light of day?
Probably the silliest was performing at the local talent contest at the Community Centre in Clevedon with my brother Jonathan when I was about ten years old. We started singing like choir boys then turned around, daubed boot polish on our faces to look like coal men and acted out the Tommy Steele hit 'What a Mouth!' We came fourth. The winner was a choir boy. Story of my life!
Is 4th place good enough from the current Arsenal squad and from Wenger?
I was brought up in the Bristol area and used to stand behind the goal at Ashton Gate singing 'With a knock-kneed chicken and a bow-legged hen etc' supporting our heroes John Galley, Gerry Gow and Chris Garland. 'Though a long-time Arsenal fan I still look out for the City results. To answer your question, with the talent at Wenger's disposal you would expect AFC to be challenging for major honours. A slow start and injuries are excuses that could be trotted out, but weaknesses in the squad have not been addressed in time. 4th place in the EPL is not good enough but is probably where we will end up. As usual. The French have an expression for this: 'Plus ça change, plus c'est la même chose' - loosely translated: 'Buy a defensive midfielder you stubborn French goat!'
Thanks Philip! Good luck with the show, and thanks for the detailed analysis of the current standings in Arsenal football club. Completely irrelevant, yet comforting for the fellow Arsenal fan...